BIRDs Press is a major operation of Bamako Institute for Research and Development Stduies, which is a science organization based in Bamako, Mali. As a publisher providing scientific and professional communities with valuable information, BIRDs Press has been publishing scientific journals since 2010. All AIMS journals are of institutionally high quality and international reputation.
To better serve the communities and share the latest and best scientific research with everyone, BIRDs Press takes great endeavor to publish Open Access, online, peer-reviewed journals in the major scientific and medical fields. BIRDs Press strives to keep its tradition of publishing only high quality journals and having its new journals indexed by all the major indexing companies in the shortest time possible. To achieve these goals, a rigorous review with high standards and rapid editorial process/publication will be strictly followed. All original research and review articles (reports) published by AIMS Press are made freely and permanently accessible online immediately upon publication. Authors publishing with BIRDs Press retain the copyright to their work, licensing it under the Creative Commons Attribution License which allows articles to be re-used and re-distributed without restriction, as long as the original work is correctly cited.
As we aim to close the gap of development in the global south, BIRDs Press publishes in French and English. Our journals are:
Contact: Telephone (+223) 760 796 29 / (+223) 761 778 87 / email: birdspress@b-institute.org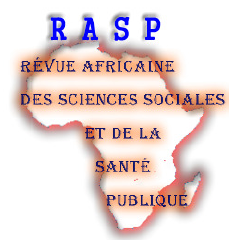 Created in January 2010 by a multidisciplinary team of African and European Sociologists, Anthropologists, Doctors, Pharmacists, Psychologists and Psychoanalysts, the Revue Africaine des Sciences Sociales et de la Sante Publique is a publication with a Pan-African vocation. Thus, it aims to create a useful documentation for scholars and policy makers for their work.